This plugin allows you :
To load Workshop Maps from a folder.

To search a map on the steam workshop directly on the plugin interface.

To download a map from an url, or, from the searching results into your maps folder
This plugin can be used by Epic Games players as well.
You can also choose the language : English or French.
If you want to add a bind to open the plugin window, go F2->bindings, add a bind with this command line : "togglemenu WorkshopMapLoaderMenu", or, go F2->plugins->WorkshopMapPlugin, here you just need to put a Key in the text field, and press "Set Bind".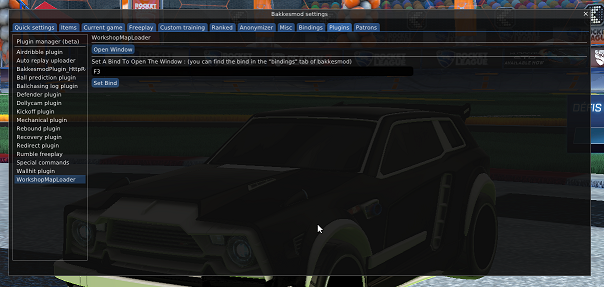 I've made a tutorial if you are struggling to make it work : https://www.youtube.com/watch?v=mI2PqkissiQ
Load Workshop Map
You have to :
create a folder wherever you want on your computer that will contain the maps
open the plugin
copy/paste the folder's path into the text field (in the "Map Loader" tab)
download a map from the "Search Workshop" tab
click on "Refresh Maps"
then you can click on the map you want to play
Search A Map On Steam Workshop
You just have to put some keywords (ex : Dribbling Challenge, Rings etc...) and press "Search". The results will be displayed below.
Download Map
From Url :
Put a Steam workshop url in the text field
Click on "Download".
From The Searching Results :
Do a research
Click on "Download Map"
Note :
Before downloading, you need to put a right path in the "Map Loader" tab, and as it is said on the plugin, don't forget to add a / at the end of the path otherwise the map will be installed in the parent folder.
For each download you will do, the map will automatically be installed in the folder you entered, then you just have to click on "Refresh Maps".
Changelog
v1.0 :
v1.1 :
research optimization
added some filtering features (most recent, most popular, most subscribers)
fixed some little bugs
v1.11 :
fixed some bugs, downloads are working
v1.12 :
fixed bug : when a folder was empty, the maps didn't load when clicking on them
v1.12.2 :
-fixed game crashing when clicking on "refresh maps"
Bugs/Issues Known
The map you downloaded doesn't appear when you click on "Refresh Maps" :
You need to go to the map folder and extract the files of the .zip file (ex : speed_jump_rings_3_by_dmc.zip, lucid_rings.zip) by yourself (see the tutorial)
If you start a research too fast after another, the game crashes.

If your game crashes when you click on download, this is probably because the maps folder you have created need administrator permission
You need to change the location of the maps folder to a place that doesn't need administrator permission (ex : desktop)
Contact
Contact me on discord for custom plugin commissions or let me know if you have some issues (Discord : Vync#3866).